MYKKI BLANCO is FANTASTICO.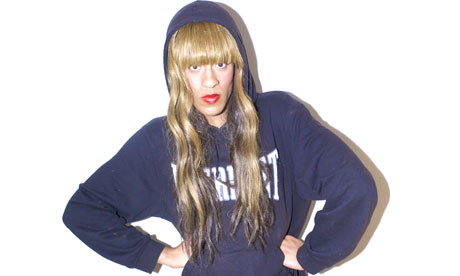 I came across Mykki Blanco and am loving it!!
Here's an excerpt from "INTERVIEW MAGAZINE" by Alex Chapman that tells a little bit about this amazing new artist!
"
Mykki Blanco is the all-encompassing metropolitan
artiste
—multi-faceted, multi-talented (poet, rapper, actor and author are just some of her varying vocations), and multi-gendered (Mykki is the womanly side of 24-year-old
Michael David Quattlebaum Jr.
),
the enthusiastic entertainer is armed with an aggressive and impressive flow, a sharp fashion sense, and a rare blend of confidence and humility.
The hard-working entertainer/beloved downtown dignitary has already grabbed the attention of many eyeballs and eardrums alike, thanks in large part to collaborations with photographer Terry Richardson (who chose the emerging artist to be a part of the campaign he shot for Happy Socks, along with model Ashley Smith and Harlem lyricist of the moment A$AP Rocky), a book of poetry (
From The Silence Of Duchamp To The Noise Of Boys
) sold at chic magnets Opening Ceremony and LA's OHWOW Gallery, as well as opening slots alongside acts like Gang Gang Dance and ARABMUZIK. Mykki's busy as ever, with two new albums and a one-woman show all set to debut this summer, a fact that should come as no surprise given the cute and candid performer's track record thus far.
"
Labels: HEATHER CAYE, MUSIC, Mykki Blanco, ONE TRACK MIND